exposition et événements en cours
The Ring of Remembrance and Lorette National Necropolis can be accessed freely and at no charge all year round. You can visit the History Centre either on your own or with an audio guide (€3 per person), which is available in French, German, English and Dutch.
It is recommended to plan a half day to visit the three sites.
Find the opening hours for the Necropolis and the History Centre on the Practical Information page.
Or by e-mail : contact@memorial1418.com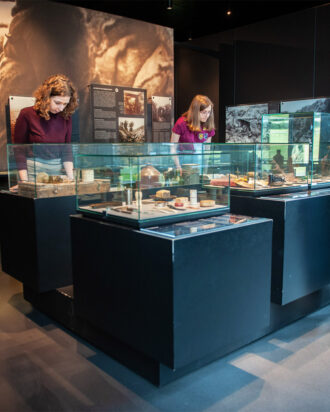 Take a bit of history home in your pocket with anecdotes about the places you visited thanks to our new visitor materials !
Portraits of the Ring of Remembrance :
To discover this remarkable monument and its architectural features, this booklet contains the stories behind some of the names inscribed on the Ring. Some stories of men and women, among the thousands to be remembered...
Cabaret Rouge Cemetery :
If you live in the area, you're sure to have passed by the imposing and majestic Cabaret Rouge British Cemetery, which runs alongside the road from Arras to Souchez. But do you know its history and the stories of the soldiers buried here ? Our booklet will answer all your questions...