NOTRE-DAME-DE-LORETTE NECROPOLIS
From darkness springs hope
AT THE TOP
OF NOTRE-DAME-DE-LORETTE HILL
In Ablain-Saint-Nazaire, over 42,000 French soldiers who lost their lives on the Artois and Flanders fronts in France and Belgium during World War I have been laid to rest.
Les animaux y sont interdits et il est défendu de fumer.

La nécropole est ouverte toute l'année aux horaires suivants :
• Octobre à mars : 8h30 – 16h15
• Avril à mai : 9h – 17h30
• Juin à août : 9h – 18h30
• Septembre : 9h – 17h30
Du 1er décembre au 31 mars, la chapelle et la tour-lanterne sont fermées.

2 Place de Notre Dame de Lorette,
62153 Ablain-Saint-Nazaire

At the centre of the necropolis rise the lantern tower and basilica, watching over the soldiers. Like a lighthouse, the light projected from the top of the tower can be seen from dozens of kilometres in all directions. The two richly decorated monuments were designed by architect Louis-Marie Cordonnier.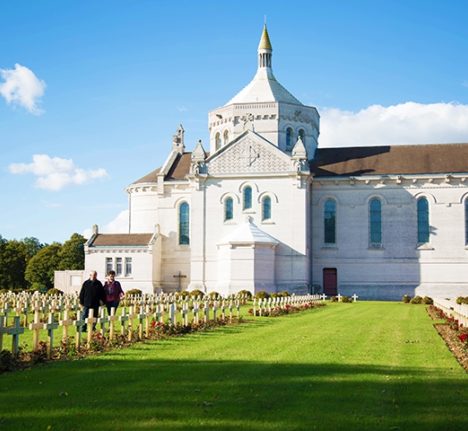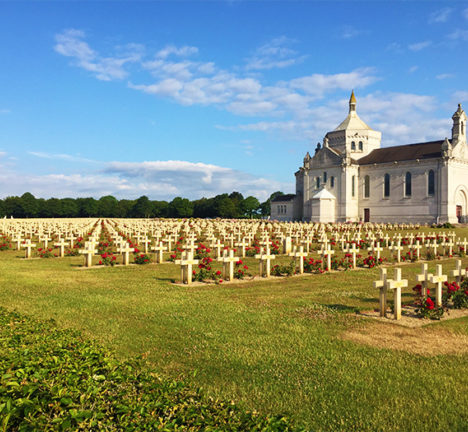 THE LARGEST
NECROPOLIS IN FRANCE
With its strong position and the terrible battles it witnessed, Notre-Dame-de-Lorette hill was established in 1919 as a site to commemorate the sacrifice of thousands of soldiers. Today, the temporary cemetery created during the Battle of Artois has become a necropolis encompassing more than 150 cemeteries. This is the final resting place of more than 42,000 soldiers, making Notre-Dame-de-Lorette the largest necropolis in the country.
À la nécropole Notre-Dame-de-Lorette, venez à la rencontre des gardes d'honneur ! Bénévoles et répartis en plusieurs groupes, ils sont plus de 4500 à donner une journée de leur temps par an afin de veiller sur la nécropole et vous accueillir en ce lieu de mémoire unique. Ils répondent à toutes vos questions et peuvent vous aider à trouver une sépulture.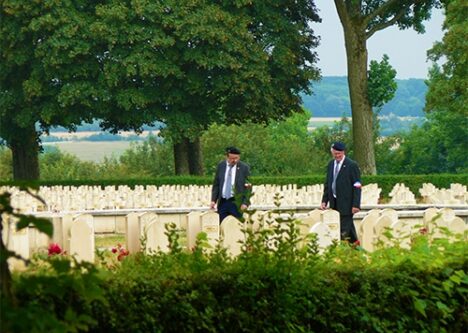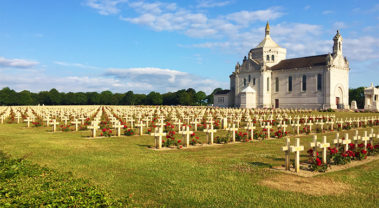 2 Place de Notre Dame de Lorette,
62153 Ablain-Saint-Nazaire