NOTRE-DAME-DE-LORETTE NECROPOLIS
Out of the darkness comes hope
AT THE TOP
OF NOTRE-DAME-DE-LORETTE HILL
At the top of the Notre-Dame-de-Lorette hill, in Ablain-Saint-Nazaire, the bodies of more than 42,000 French soldiers who died during the First World War on the Artois front and in French and Belgian Flanders sleep for eternity.
Animals are not allowed and smoking is prohibited.

The necropolis is open all year round at the following times :
• October to March : 8h30 - 16h15
• April to May: 9am - 5:30pm
• June to August : 9h - 18h30
• September: 9am - 5:30pm
From December 1 to March 31, the chapel and the lantern tower are closed.

2 Place de Notre Dame de Lorette,
62153 Ablain-Saint-Nazaire

At the centre of the necropolis rise the lantern tower and basilica, watching over the soldiers. Like a lighthouse, the light projected from the top of the tower can be seen from dozens of kilometres in all directions. The two richly decorated monuments were designed by architect Louis-Marie Cordonnier.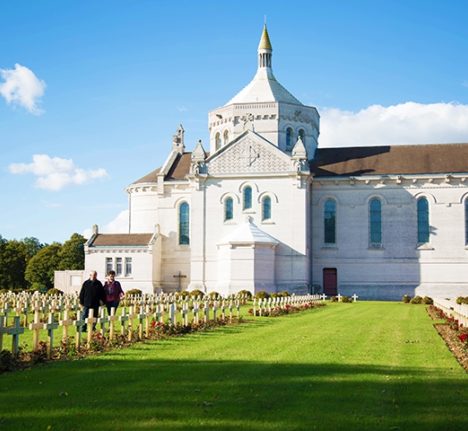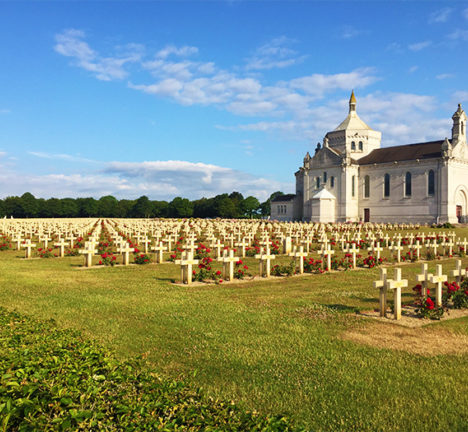 THE LARGEST
NÉCROPOLE DE FRANCE
With its strong position and the terrible battles it witnessed, Notre-Dame-de-Lorette hill was established in 1919 as a site to commemorate the sacrifice of thousands of soldiers. Today, the temporary cemetery created during the Battle of Artois has become a necropolis encompassing more than 150 cemeteries. This is the final resting place of more than 42,000 soldiers, making Notre-Dame-de-Lorette the largest necropolis in the country.
Come and meet the guard of honour at Notre-Dame-de-Lorette necropolis. This is the work of more than 4,500 volunteers, split into several groups, who dedicate one day per year to watching over the necropolis and welcoming you to this unique place of commemoration. They can answer all of your questions and help you to find a grave.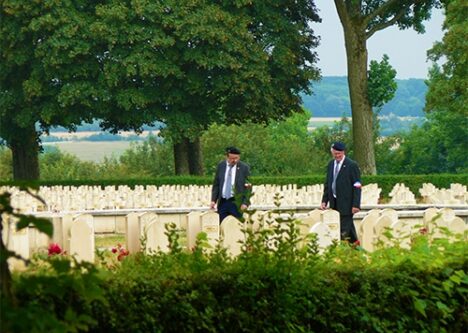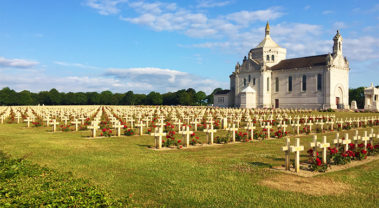 2 Place de Notre Dame de Lorette,
62153 Ablain-Saint-Nazaire